Today I saw for the first time ever a photo of my great-grandfather. It believe it was was sent to my mother by a family member. As a photographer and someone who likes history I was excited to see it. I decided I am going to re-touch the photo and print for my mom.

Later tonight I saw TED Talks: Video & Photo Mojo. It was an episode about re-touching. Coincidence I thought. After seeing it, it had me thinking. I going to start finding old family photos an re-touching them. Practice will make me better at re-touching, in making this decision I will also be providing this services to clients. If they have old photos restored/re-touched I will do it. It will be a great opportunity to provide a service that will help people restore their memories and family treasures.
Powered by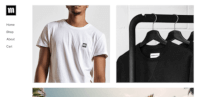 Create your own unique website with customizable templates.